This post has been sponsored by Expressions Vinyl - I was provided materials for the post, but don't worry, all opinions are 100% mine. :)
I've just recently warmed up to heat transfer vinyl - my first project was this
Bingo tote I made for my fiance's grandma
just last Christmas, and the second one was this
'Shopping is My Cardio' pouch
I made for my mom for mother's day. They both turned out fantastic, but I was using HTV on canvas fabric. This is actually my first time making them for shirts - and dare I say, I had fun and I'm completely hooked.
I wanted to make some cute and simple slip-on shirts for my friend's newborn child. I haven't seen him yet as they live in another state, but I wanted to make something for him (I have a thing for cute fat babies).
Supplies:
Cut your templates (download is at the end of this post) - It's easy to cut the sunglasses and tux one without a die-cutting machine but the name tag one is a bit more complicated if you don't have a die-cutter.
Heat up your iron and iron the shirt you're using - I read it's best to do that for the HTV to adhere better. I used cardboard inside the shirt just to stabilize the shirt while it's being ironed. Also, iron on a flat, stable surface - I have a designated wood board to use for this purpose.
Iron your design! It's best to put a slight pressure for about 25-30 seconds on your designs for them to meld to the fabric. Also, use parchment paper between the iron and the HTV while ironing.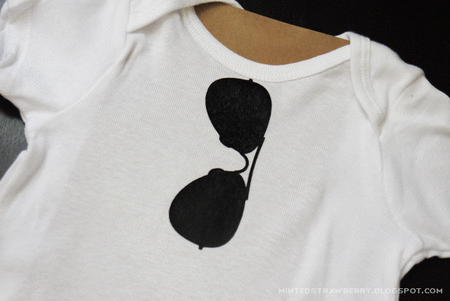 For the sunglasses one I layered gold over black HTV. Next time I'm getting gold metallic HTV to make my own sunglasses shirt. :)
Admittedly the tux design is a bit small, but I think it still turned out cute. The 'Hello My Name Is Thomas' one is my favorite. I just love how it looks and I can't wait to see a photo of him wearing it! I just hope these would still fit him. For anyone who's wondering - I used
Janda Truly Madly Deeply
for the name. :)
I hope I have inspired you to try your hand at making HTV shirts as well - while you're at it, get them from
Expressions Vinyl
since they have really good prices for them (I have ordered more after making these shirts, actually. I can't wait to make more!)
Making these made me want to have a baby. LOL. But anyway,
which one is your favorite?
Hope you have a great week ahead of you, friends!
DOWNLOAD THIS HERE